The National Aboriginal Design Agency worked with Westpac, project managers Lend Lease and designers Geyer to produce designs for the foyer of the Westpac Barangaroo building at Darling Harbour in Sydney.
Two designs were chosen for the project, Grinding Grooves and BirdFish, both by Brentyn Lugnan, a prolific Gumbaynggirr artist and local Coffs Harbour identity whose portfolio spans large-scale public art as well as graphic designer for SBS and as an animator at the ABC.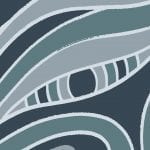 Story of Grinding Grooves Design
Brentyn's Grinding Grooves design was used on rugs within the Westpac building. The design shows a reveal of axe-grinding grooves in a sandstone platform around a waterhole.
For today's Aboriginal people, axe-grinding grooves represent an important link with their culture and heritage. In the past Aboriginal people used axe-grinding grooves to finish partly made axes (known as axe blanks) or to sharpen axes that were worn or chipped. Axe blanks are pieces of stone that were chipped into a basic axe shape at stone quarries and sharpened by rubbing the edges over sandstone. It was this rubbing action that left the grooves. Water was sprinkled onto the sandstone to make it more abrasive and to reduce dust. This is why the grooves are usually found on outcrops close to water.
Aboriginal axe-grinding groove sites are rare and provide valuable information about how stone tools were made, increasing our knowledge of past land use and ways of life.
Story of BirdFish Design
The Bird Fish design was used for the acoustic screens within the Westpac building. Birds and fish are both integral parts of the Aboriginal lifestyle and are important spiritual symbols and totems. They form a basis for both spiritual exploration and ceremony, as well as a practical means of survival through food. Sustainability is an important part of Aboriginal culture; everything was utilised, the entire bird was used, not just the meat for feeding the family but the feathers would be used in ceremony.
« Back to Portfolio